The Magnificent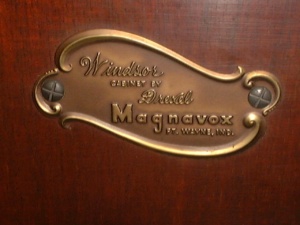 The door plate of this stunning piece of cabinetry says it all. Drexel, the finest name in high
quality furniture and Magnavox, a name long-associated with high-end audio reproduction.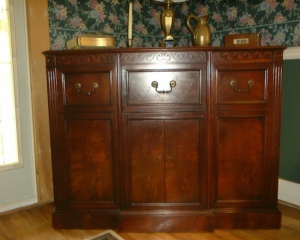 Burl walnut cabinet is flawless.  Center doors open to reveal speaker compartment.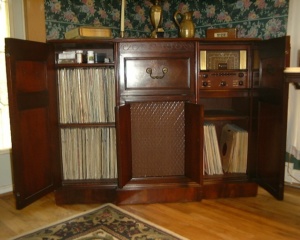 Cabinet has ample room for record storage. Controls and tuner are located on upper right.
The Magnavox "Windsor" was introduced in 1946 and remained in production for two years. The "Windsor" was second only to the Magnavox "Imperial" which added an Early American shelving unit attached to the "Windsor" cabinet. Midway up the unit and on either side were individual doors which opened to reveal speaker enclosures. Directly in the center behind a set of double door which matched those of the lower unit was a 10 in. television screen. This was prominent in the 1948 unit. The "Imperial" is today sought after by collectors because of its rarity, beauty and state-of-the-art concept of the day. The "early" "Windsors" such as mine are more sought than those later primarily because of the burl walnut treatment and the set of front middle doors which close flush with those on either side completing the rich cabinet work as seen in the picture above. Directly below are several pictures displaying the high degree of technical engineering which ranked high-end Magnavox components with Scott, Fisher and Mcintosh.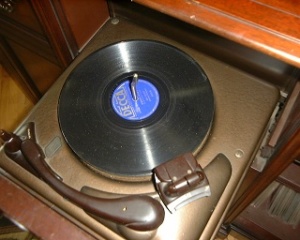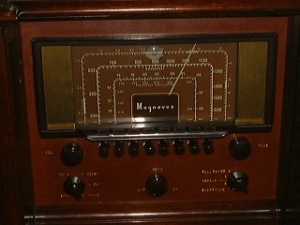 Above LEFT is the original 78 rpm record changer mfg. by Webster of Chicago.  Late 1948 models had dual speeds 78/33 to accommodate the newly introduced LP.  The changer was not operational when I purchased this unit.  I completely disassembled, cleaned and lubricated every moving part as specified. The original crystal cartridge was replaced with a ceramic cartridge of slightly lower output with improved reproduction quality.  Above RIGHT is the tuner and individual controls for AM, FM and Short-Wave (6 MC- 18 MC), Phono, and Auxiliary.  This tuner utilizes the no.1629 "green eye" tube (upper center of dial) for sharp tuning.  The tuner required very little maintenance to recreate peak performance.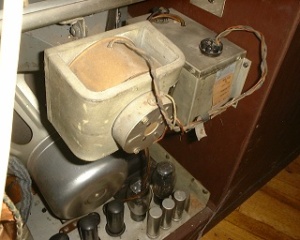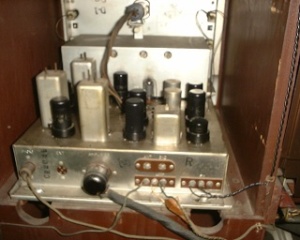 Above LEFT is the unique crossover speaker network of the "Windsor". Rich base emulates from a 16 in. woofer and treble highs from the horn tweeter. The power amplifier consists of 4 6L6 power tubes in push-pull arrangment and two 5U4 rectifiers. The amp has all 6 date coded original Ken-Rad (Kentucky Radio) tubes which are still matched and test excellent. Above RIGHT is the rear view of the the tuner.
I purchased the Magnavox "Windsor" in June 2010 from the Fox River Antique Mall in Appleton, Wi.